UCLA Club Ice Hockey, Figure Skating fight for athlete equality with You Can Play Project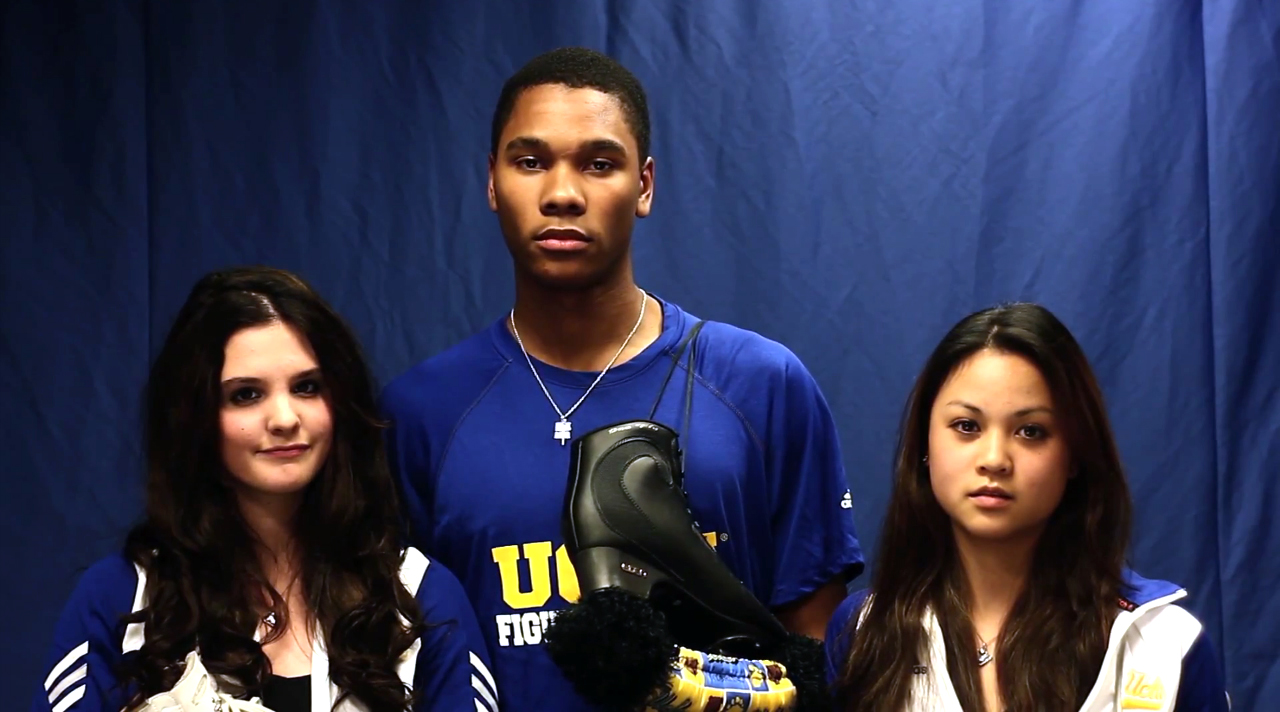 UCLA Club Figure Skating made a video with the club hockey team on equality and respect for all athletes regardless of their sexual orientation. (Credit: YouTube)
"A player who is willing to block a shot."
"A player who is willing to go in the corner."
"A player who is willing to leave everything on the ice."
These are a few of the things UCLA Club Ice Hockey and Club Figure Skating athletes said they look for in teammates in a video the teams made for the You Can Play Project.
What they don't care about, they said, is their teammates' sexual orientation or gender identity.
This tolerant attitude is exactly what the You Can Play Project hopes to promote. The nonprofit aims to change the culture of sports by educating athletes about the effects of the "casual homophobia" project leaders said is prevalent in locker rooms.
"There is a disconnect because they are using these terms which do hurt a gay teammate," said Patrick Burke, founder of the Project. "When (lesbian, gay, bisexual and transgender athletes) are sitting there and they hear someone say, "˜Oh, that's so gay' all they can think in their head is, "˜I can never come out to this person, this teammate won't respect me, this teammate won't support me.'"
Through video announcements and educational programs, the project strives to ensure that athletes are judged solely on how they compete and their work ethic "" "If you can play, you can play," "" regardless of sexual orientation.
When UCLA's ice hockey and figure skating teams heard about the You Can Play Project team, they decided to take action.
The teams hope that the video, which is on the project's website and on YouTube, will inspire athletes to accept teammates who identify with the LGBT community. In the video, athletes discuss the importance of playing for the love of the sport.
"UCLA ice hockey and UCLA figure skating believe that everyone deserves to play the sport that they love, regardless of their sexual orientation or gender identity," said a member of the figure skating team and a member of the ice hockey team in the video.
The teams decided to pair up to show LGBT athletes that they have the support of more people than they might think.
"We thought it would be a more powerful message if we had more than one team and players of all kinds backing it," said third-year history student Ryan Louie. "It isn't just a hockey problem, there are other athletes going through it."
Louie said his inspiration for being a part of the video was his friends in the LGBT community. He noted that it is impossible to know if someone just hasn't come out yet, and that nothing should be said in a locker room to make teammates feel uncomfortable around each other.
Joey Millet, a third-year chemical engineering student and president of the figure skating team, talked about figure skating being a tolerant sport but still having a long way to go for actual equality.
"People need to see talent for talent, you know?" Millet said.
Jay Singh, a fourth-year computer science student and a forward on UCLA's hockey team, recalls the moment he decided that "casual homophobia" was not something to be tolerated. In senior year of high school, his teacher talked to the class about how words like "gay" and "retard" are more harmful than the students might think.
"It is good to promote equality," said Singh. "Something different in their personal life doesn't affect their ability to play the sport."
This sort of lightbulb moment is just what the You Can Play Project hoped to develop by reaching out to younger athletes.
After initially focusing on professional athletes, the You Can Play Project began to reach out to several colleges, including the University of Denver, Miami University in Ohio, Princeton and UConn. By expanding into college sports, the Project hopes to spread its message to younger athletes.
"(High school and middle school are) where peer pressure is formed. That is where those words start, is at that age," said Teale Stone, director of student programs for the You Can Play Project.
"If an athlete pursues a sport in college, it is already in them that those words are okay."
Burke said that athletes play an important role on college campuses and even on a national level.
"Athletes are heroes and role models and getting them on board is important. It shows the LGBT community that they have athletics to support them."
Burke was inspired to create the You Can Play Project by his late brother, Brendan Burke. After growing up with a famous father in the hockey world, Brendan played college hockey.
In 2009, he decided to come out. His story was national and appeared on ESPN. He was an advocate for acceptance, and he was the person with the closest relationship to the NHL to come out.
In February 2010, Brendan died in a car accident, but his family wanted to continue his legacy.
Patrick Burke began working with an all-gay all-star hockey team, which was called GForce and was based in Denver. He also wrote an article on Outsports.com, but he still wanted to do more.
"Our goal is to make locker rooms safe for gay athletes," said Burke. "Make the sports world free of that language and to get better sports because of it, to get better athletes because of it."
The task at hand is not an easy one. Stone admits that he wasn't sure if he wanted such a big role at first. He learned about the job from an old professor at University of Denver.
"I was hesitant at first because I'm not gay and I wasn't sure how my friends would look at me," Stone said.
"But then I looked at it as if I was still an athlete. I would be in favor it and it's something I am thankful and happy to be a part of."
Burke and Stone are excited to see their project grow and live out Brendan Burke's legacy. They said they hope to increase education about safe locker room etiquette, not only among professional hockey teams but among sports at all levels.
"It's really simple, we're not asking you to do a lot. We're not asking you to march in parades, we're not asking you to donate a ton of money or take up a lot of your time," Burke said.
"Let's cut out a few of these words, let's cut out the language that is intimidating to your teammates and then you can be supportive. All we need you to do is say, "˜If you can play, you can play.'"