Freshman class takes questions at men's basketball's Pac-12 media day Wednesday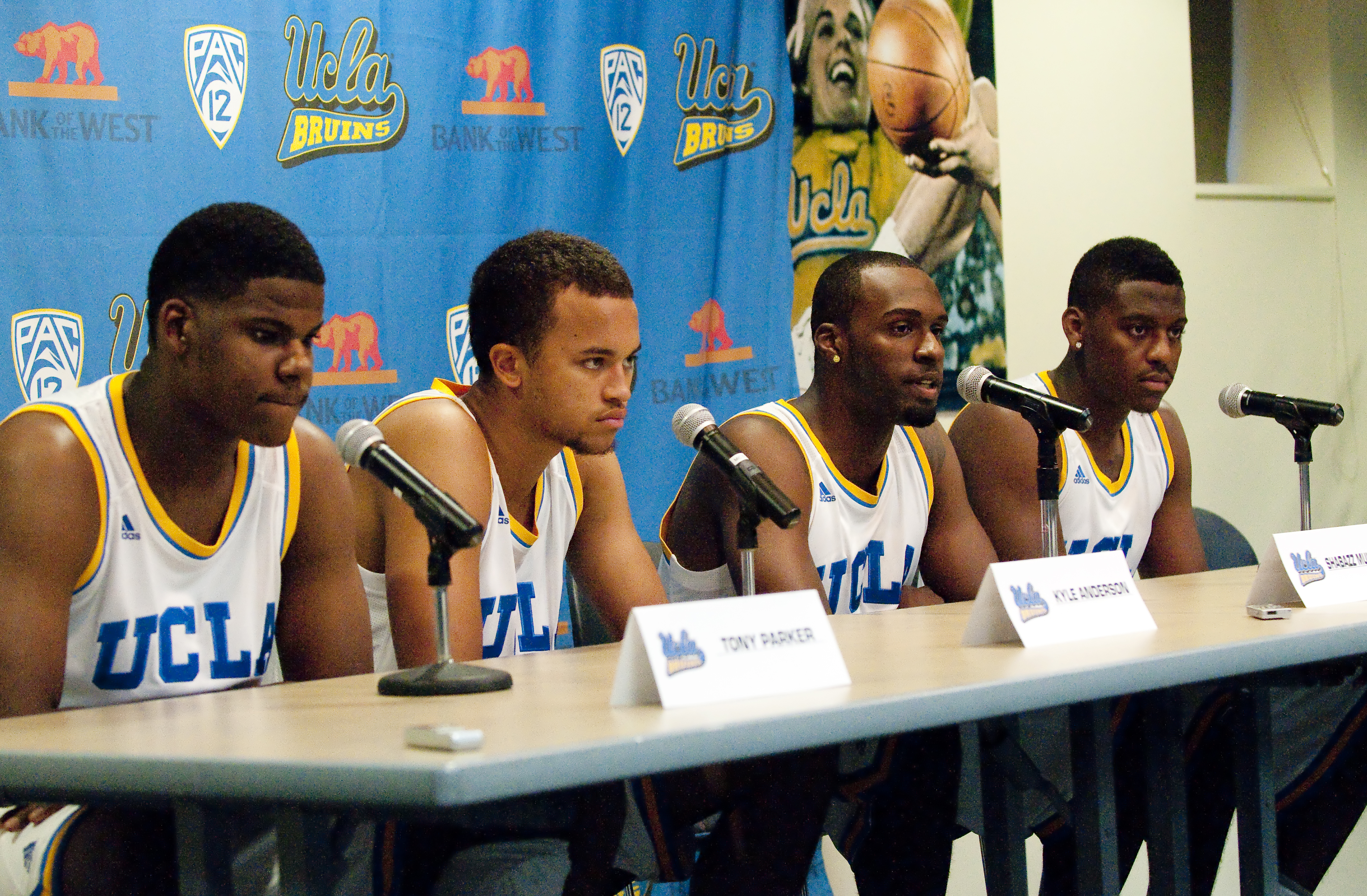 Tony Parker, Kyle Anderson, Shabazz Muhammad and Jordan Adams answer questions at UCLA basketball's media day on Wednesday. While the players were able to address the media, no comments were made about the eligibility of Muhammad or Anderson, which is still up in the air.
When four tall figures walked into the conference room at the J.D. Morgan Center, it was obvious why so many people were there.
At Pac-12 media day on Wednesday, members of the media got their first glimpse of the heralded UCLA men's basketball freshmen class. At the center of the spotlight was guard Shabazz Muhammad, who was the focus of most of the questions.
The attention was fitting, not because of the expectations others have for the class, but the expectations Muhammad and the freshmen have for the team.
"We all came from winning programs in high school, winning state championships and stuff like that. (We're) just trying to interpret that to college and we're going to try to carry that tradition on for all of us," Muhammad said.
Flanked by his fellow freshmen, Muhammad expressed his anticipation to finally get on the floor with the team.
"I'm really excited to play with these guys. I've been playing in practice with them, enjoying myself and the chemistry is really coming very well with all of us," Muhammad said. "It's going to be a great opportunity and I think there are great things ahead of us, so (we're) just staying confident and trying to get ready to do this."
While all four freshmen were in their jerseys Wednesday, it remains unclear whether or not that will be the case come the season opener in November.
Tony Parker was recently declared eligible, but Muhammad and Anderson still haven't been cleared. Coaches and players were unable to comment on the situation at media day.
Fast forward
For years, the UCLA men's basketball team has lacked balance, typically focusing on defense while the offense has been considered predictable and ineffective.
However, with this year's newfound athleticism, the Bruins are looking to change that.
While defense will remain the team's trademark, coach Ben Howland said the team will "We're really trying to play faster. That was one of the big (emphases) of the summer, really trying to push the ball and take advantage of … our speed and ability to run," Howland said.
One of the biggest factors in UCLA's offense this year figures to be redshirt senior guard, Larry Drew II, who transferred from North Carolina last year.
Drew's speed and quickness has made him a handful for his teammates to guard in practice, sophomore guard Norman Powell said. Drew thinks this will be an asset to the new-look offense come November.
"I've gotten a lot stronger, quicker and faster, so obviously (the up-tempo offense) is suiting to my ability," Drew said. "We have the personnel to run and get out in the lanes and sprint down the court. … I think it's going to play to our advantage."
Leg of Lamb
Junior guard Tyler Lamb made a brief appearance Wednesday, but only for the team and individual photos.
Lamb, who underwent successful arthroscopic knee surgery Tuesday, is expected to miss at least the next month, Howland said.
That would likely take him out of the team's first game, when Pauley Pavilion reopens its doors Nov. 9.