Rally responds to hate speech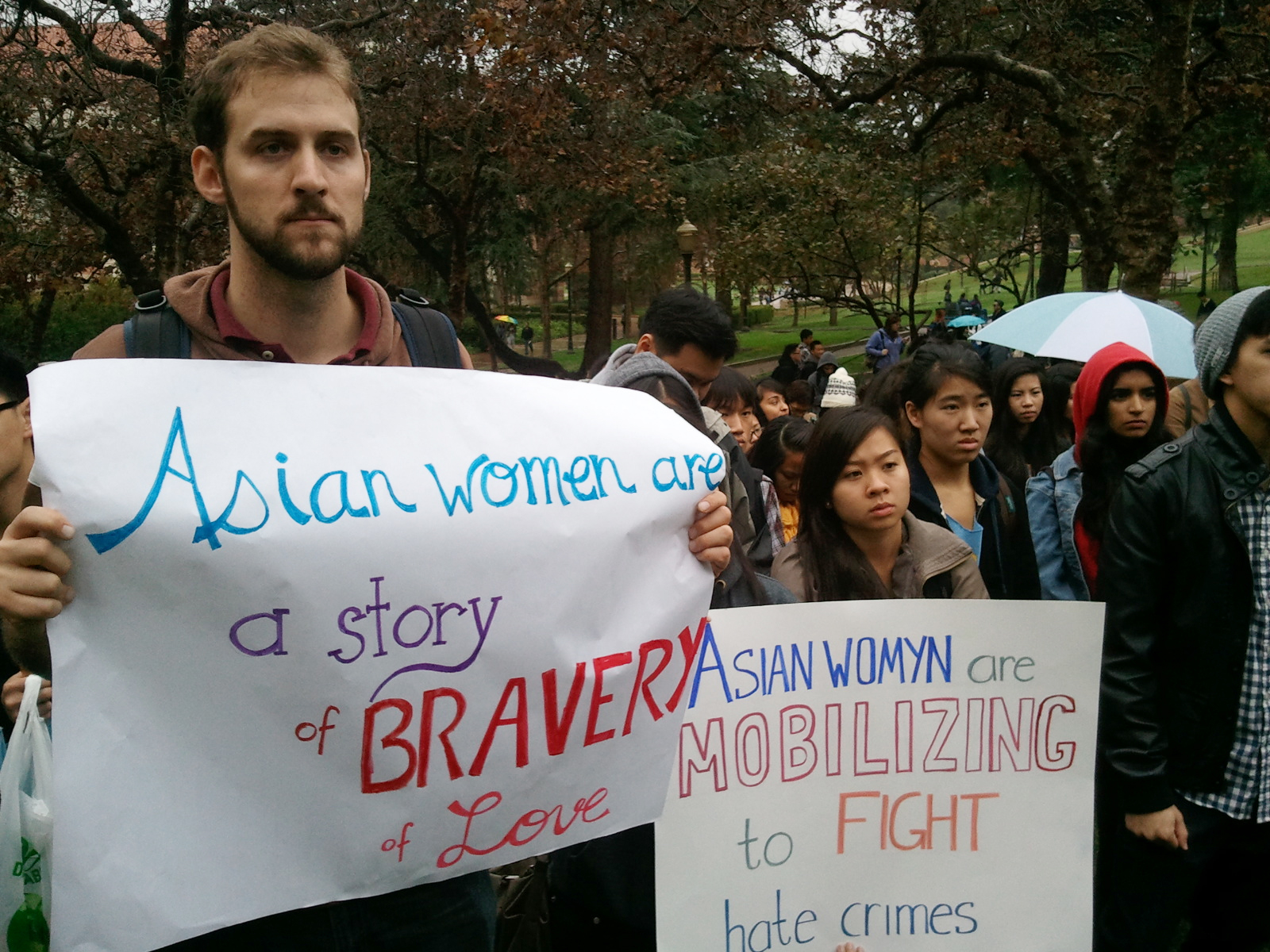 Students rally in front of Kerckhoff Hall Thursday in response to recent vandalism.
The UCLA community is reacting to multiple cases of vandalism involving racial and sexist slurs that were reported to university police earlier this week.
About 100 people participated in a rally Thursday addressing the incidences. Various minority student groups and UCLA administrators were present at the event, which was hosted by the Vietnamese Student Union.
On Tuesday, a student found a piece of paper with the words "asian women R Honkie white-boy worshipping Whores" attached to a Vietnamese Student Union sign in Kerckhoff Hall. Wednesday, a similar phrase was found handwritten on the door of a bathroom stall in Powell Library.
University police are currently investigating both incidents. UCPD cannot confirm if the incidents are connected but UCPD is exploring the possibility that they might be linked, said UCPD spokeswoman Nancy Greenstein.
Vice Chancellor of Student Affairs Janina Montero spoke at the rally. She said she was outraged by the vandalism, and added that she feels the acts do not represent what UCLA should stand for as a community.
"(The administration wants) to express support and concern," Montero said at the rally. "I want to make sure that all the students here, regardless of their ethnicity, background or situation, know that this is unacceptable."
UCLA spokesman Steve Ritea said resources at UCLA, such as counseling, the Bruin Resource Center, and the True Bruin Respect program, help students report and handle hostile climate incidents.
During Thursday's rally, Anees Hasnain, a fourth-year sociology student who reported the slurs on the Vietnamese Student Union sign to UCPD, said she felt numb and was shocked when she found the sign.
She added she is concerned by repeated incidents of hate speech on campus, referring to reports from earlier this year about anti-Mexican and sexist slurs written on an apartment door, and a video posted by former UCLA student Alexandra Wallace that included derogatory comments about Asian students.
"How can this be our home if my peers do not feel safe?" Hasnain said to the crowd. "It is up to all staff, faculty and students to help those suffering from discrimination."
Teralyn Dang, a first-year business economics student, who attended the rally, said she was happy to see that people of all ethnicities and genders attended the event.
"It shows the person (who vandalized the sign) that, we are out there, we are not going to let this go unsaid," she said.
The Asian Pacific Coalition plans to hold a forum in the basement of the Student Activities Center on Wednesday to further discuss campus climate at UCLA.
Contributing reports by Erin Donnelly, Bruin senior staff, and Ariel Hidal, Bruin contributor.