Compost crew: Waste Watchers turn trash into fertilizer by properly disposing organic waste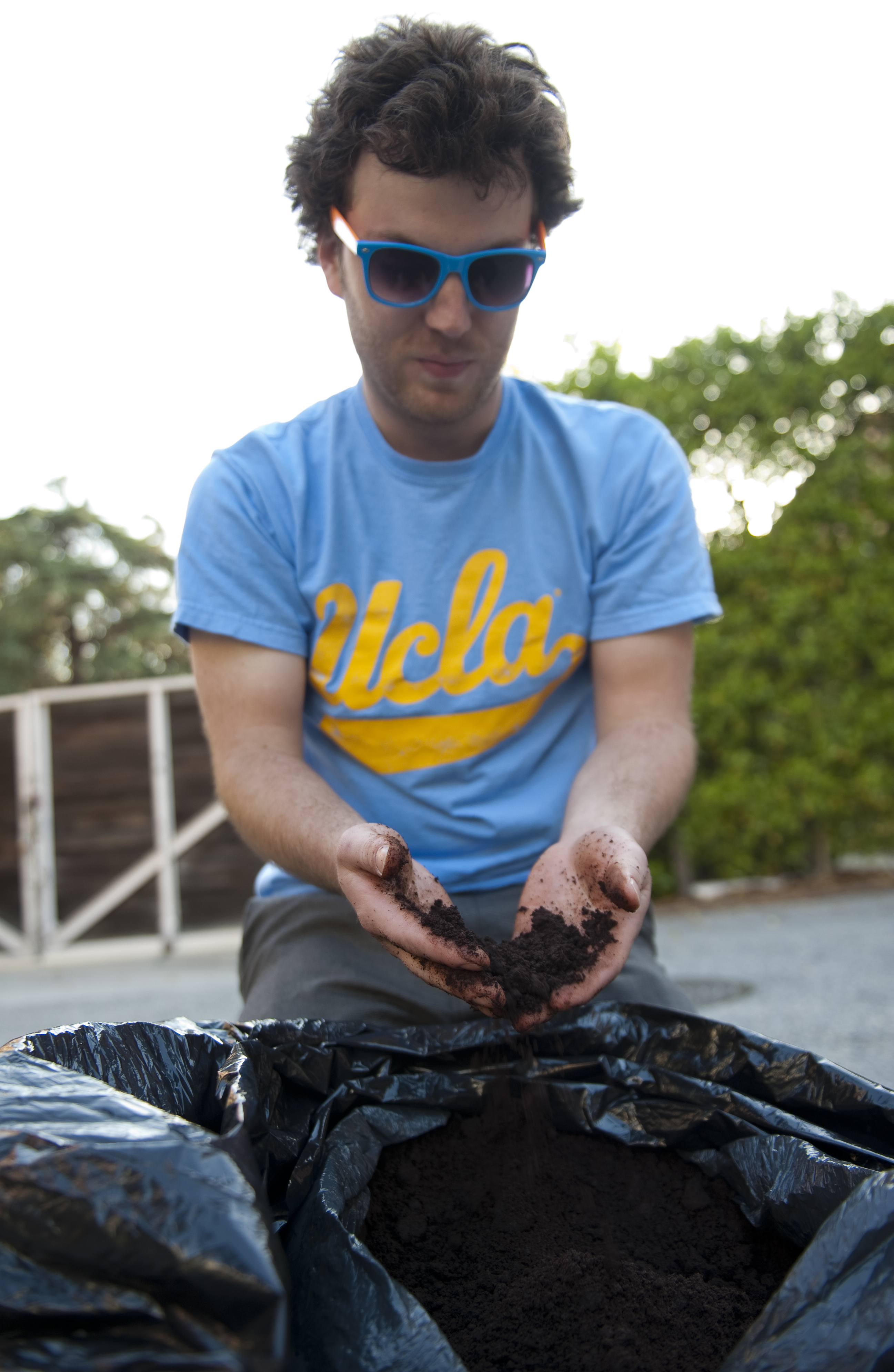 Third-year geography student Jason van Buren runs his hands through compost that student group Waste Watchers created from campus waste. The club will use the compost to fertilize Sunset Rec's garden.
Hauling trash-bags full of coffee grounds and kitchen scraps, two three-wheeled rickshaw bicycles raced past campus foot traffic.
The fleet had just finished their first compost pickup at Il Tramezzino on campus.
The owner of cafe, Devon Jackson-Kali, met the students near the cafe to give them leftover coffee grounds from the restaurant's kitchen, which were then loaded onto the bikes. He also gave them pounds of cabbage heads, carrot peelings, celery and other scraps leftover from his kitchen operations.
Leaders of an undergraduate environmental research team known as Waste Watchers drove the custom-built, electric and pedal-operated bikes "" or rickshaws "" on an extended campus route for the first time. Using the rickshaws for transport, the team collects and recycles leftover scraps at their own compost site located in Sunset Canyon Recreation Center.
Waste Watchers formed during fall quarter through the UCLA Institute of the Environment and Sustainability's Education for Sustainable Living Program, a student-run, 2-3 unit course that helps students design their own sustainability projects.
Chief Sustainability Officer Nurit Katz has since then connected the team with six graduate students running their own pilot composting project at the Weyburn Terrace Apartments.
The project is a way to teach students how to compost in a hands-on way, Katz said.
The university currently hires an outside company to deal with compostable waste, said Jason van Buren, Waste Watchers' co-leader and third-year geography student.
Members of Waste Watchers hope to reduce the university's reliance on the trash removal company, van Buren said. The six-student team also wants to offset university fertilizer purchases by contributing their compost to campus landscaping, he added.
The group is currently backed by a single $20,000 grant from The Green Initiative Fund and is supported by UCLA Recreation and UCLA Sustainability.
Wednesday's trip marked the first time members of Waste Watchers had picked up kitchen waste from Il Tramezzino.
Jackson-Kali, who is also a UCLA alumnus, eagerly shared photos of tomato and garlic plants from his personal herb garden with his fellow compost-enthusiasts when they came to pick up scraps from his restaurant on Wednesday.
"I run my restaurant as a no-waste restaurant, and as part of that, it doesn't make sense to throw away perfectly good nutrients," Jackson-Kali said.
With his gardening experience, Jackson-Kali plans to help the students irrigate and expand the Sunset Recreation Center's garden. In exchange for his kitchen scraps, the team will grow organic basil for the restaurant's Italian cuisine.
Jackson-Kali is just one community member contributing to the project.
Sixteen Weyburn residents participating in their own pilot project at their apartments have been leaving compostable waste in buckets outside their doorsteps over the last six weeks for the Waste Watchers team to pick up.
Members have collected about 45 pounds of waste each week through the partnership.
Chloe Green, the Weyburn project coordinator and a graduate student in urban planning, excitedly greeted the team on the street outside her apartment Wednesday.
Green said it felt "unnatural" not to compost at her Weyburn apartment. She grew up composting and said she has since learned the technique through trial and error.
Green handed the team buckets of scraps from the Weyburn graduate student participants, and the rickshaws were loaded once again, the last stop for the night.
"This is my favorite part of the week," Green said, with a smile.
In addition to working with local residents, Waste Watchers plans to reach out to on-campus departments in an attempt to expand operations this summer and next fall, van Buren said.