UCLA archaeologist works to preserve Easter Island statues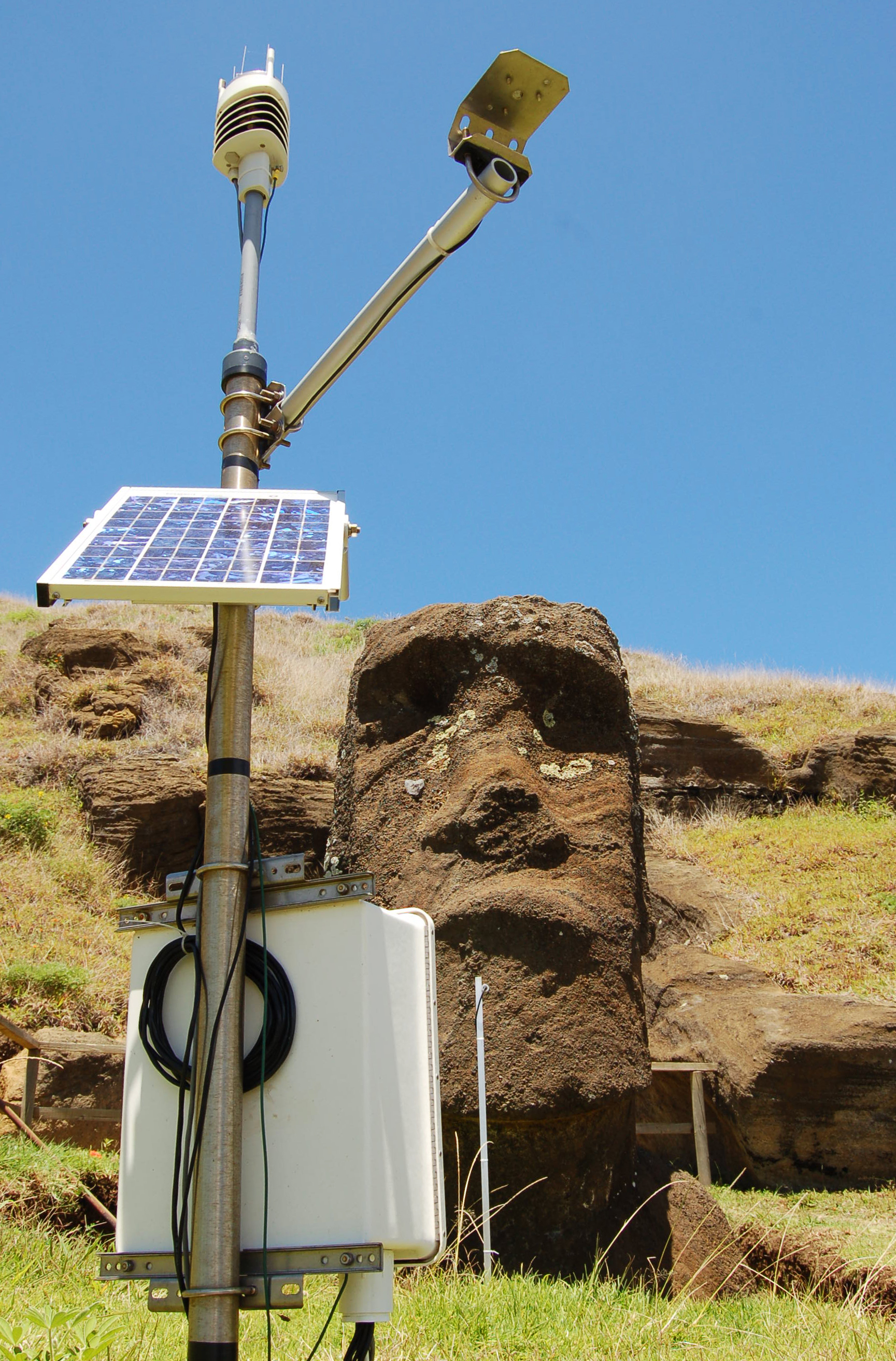 An environmental monitoring system is set up in front of a statue as part of the Easter Island Statue Project. (courtesy of Deidre Whitmore)
An archaeologist driving around the remote island with her young daughter in tow quickly became a familiar sight to locals of Easter Island.
Beginning in graduate school at UCLA and continuing her research for 30 years, archaeologist Jo Anne Van Tilburg has traveled back and forth between Los Angeles and Easter Island, also known as Rapa Nui to locals, in order to study the monolithic human-like statues the island is famous for. Her work is part of the Easter Island Statue Project, which she also directs.
The director of the UCLA Cotsen Institute of Archaeology's Rock Art Archives, Van Tilburg said her longtime interest in the island stemmed from a desire to understand the aesthetics and history of rock art and sculpture.
"I think I've always been enamored by the idea that life today is rooted in life yesterday," she added. "I'm interested in the preservation of art and understanding of the past."
Getting to know the locals
On her numerous trips to and from the Chilean territory in what she called a "one-woman operation," locals began to take notice of her.
An American priest at a nearby congregation had lent her a Jeep, and during many summers, Van Tilburg dropped her daughter off at the nearby Catholic school before heading to work every morning to dig, excavate, clean and record.
In the field, Felipe, an elderly fisherman by trade who had explored the nearby caves and fields as a child, could be seen guiding the archaeologist around the island.
"(The locals) had seen me since 1982 on that island," said Van Tilburg. "They knew I meant what I was doing. They knew I was serious."
This fact, Van Tilburg said, is what enabled her and her team to gain a rare degree of trust and access to some of Easter Island's most treasured monoliths.
Van Tilburg, who specializes in both two-dimensional rock art and larger statues, and her field team, which is comprised of only local participants, were the first researchers granted access to the island in more than 50 years.
Documenting artifacts
Since beginning her digs on the island, located 2,300 miles west of Chile, Van Tilburg has been working to create what she hopes will be the largest and most comprehensive online inventory of artifacts and statues from Rapa Nui.
Currently, the Easter Island Statue Project group is working to make the database an open-access publication, so that anyone interested in the island's art can explore its artifacts digitally, said Deidre Whitmore, a research assistant and UCLA alumna responsible for entering the extensive data into geographic informational systems that can tell the user how many artifacts are in a given area.
"We are looking at architecture, roads, quarries "" any place where (statues) were found," she said. "They all need to be documented."
The artifacts need to be documented quickly, before they erode from overexposure, Van Tilburg said.
Carvings Van Tilburg recorded in the early 1990s were no longer present by the 21st century, for instance.
Since eventual erosion of the human features and designs is inevitable, Van Tilburg established an art gallery on the island to ensure records and drawings of artifacts are available for future generations even if the actual pieces are not.
Preserving history
The statues, or moai, can be found all over the island, sitting beside roads and settlements.
Yet because they are made from extremely soft volcanic rock, most are falling prey to continuous erosion and shifting of the geological landscape. This diminishes the statues' value to tourists and other parties, Van Tilburg said.
"Rapa Nui people know (the moai) are disappearing, and so will their history," she said. "If they are just lumps of rocks, without human features, they are not going to be interesting."
So along with Mónica Bahamondez, director of the National Center of Conservation and Restoration in Chile, Van Tilburg returns to the island every year to treat the statues and take exhaustive notes of each artifact to add to the database.
Their primary targets are located inside a volcanic crater, a quarry in which the best-preserved and often unfinished statues rest.
Bahamondez said workers apply a chemical to the statues that slows down the rate of decay and then coat them in a water repellent to counter the "permanent exposure" to harsh weather conditions.
In order to preserve the famous statues of Easter Island, Van Tilburg and her colleagues will travel to Easter Island many more times beginning this October to carry out the conservation efforts.
"We need to have respect for the past," Van Tilburg said. "Not just admiration and awe, but respect for the accomplishment of the past."
Regardless of the environmental threat to the famous moai, Van Tilburg and many Easter Island natives are firmly against moving the monoliths to museums.
"The statues just don't speak very clearly when they are in museum galleries," Van Tilburg said. "The landscape is their place, but we also have to control this dangerous place."