UC Advisory Council report on Jewish student campus climate threatens to limit free speech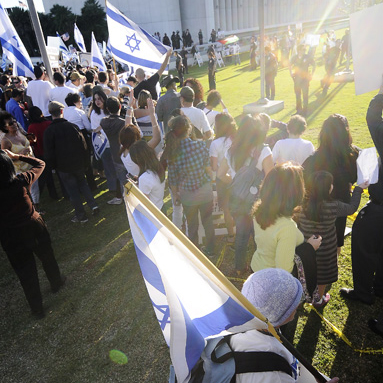 After a escalation of violence in the Gaza Strip in 2009, protests by Palestine and Israel supporters occurred around L.A. In this Jan. 12 file photo, pro-Israel demonstrators gather outside of the Federal Building in Westwood.
Key recommendations from the report on UC Jewish student campus climate
1. UC should review its policies on university sponsorship and neutrality and develop model institutional protocols for such activities.
2. UC should adopt a hate speech-free campus policy.
3. UC should adopt a UC definition of anti-Semitism and provide model protocol for campuses to identify contemporary incidents of anti-Semitism, which may be sanctioned by university non-discrimination or anti-harassment policies.
4. UC should develop cultural competency training around the Principles of Community, and such training require of all community members.
5. Adequately address the dietary needs of Jewish students, faculty and staff on UC campuses.
6. Develop model practices that sufficiently accommodate religious observances.
Source: UC President's Advisory Council on Campus Climate, Culture, and Inclusion
By
Daily Bruin Staff
Aug. 27, 2012 3:58 a.m.
"Congress shall make no law respecting an establishment of religion, or prohibiting the free exercise thereof; or abridging the freedom of speech, or of the press; or the right of the people peaceably to assemble …"
In spite of the reasonably straightforward intentions of this amendment, a threat to this right is working its way into our very own UC system.
In July, the UC Jewish Student Campus Climate Fact-Finding Team published a 10-page report outlining what it described as an alienating campus climate for Jewish students and faculty, complete with recommendations to improve that environment.
Even with the team's presumably good intentions, having read its conclusions and recommendations, I am alarmed by its clear stance against free speech.
It is not the role of universities to regulate political speech "" that duty falls exclusively within the jurisdiction the court system. A state educational institution should not be put to interpreting this country's foundational documents, but should relegate that duty to the system charged with examining and upholding laws.
In one instance, the report recommends specifically that a new hate speech policy outline a definition of anti-Semitism and tie that definition into the university's already established anti-harassment policies.
According to the report, the "UC should push its current harassment and non-discrimination provisions further, clearly define hate speech in its guidelines and seek opportunities to prohibit hate speech on campus."
In this manner, the UC fact-finding mission's report represents a contradiction of what a university should stand for "" diverse narratives and perspectives, free speech and expression.
There is a much more simple solution than trying to do the impossible task of defining "hate speech" and tightrope walking the fine line of restricting free speech: Leave it to the courts.
The First Amendment and any alleged obstruction of our constitutional rights can and should be tried in a court of law.
The university's report mirrors a case last year when a federal judge dismissed a lawsuit filed against UC Berkeley that alleged there has been a permissible "anti-Semitic climate" at the University.
The judge found no obstruction of the plaintiff's constitutional rights, but instead found a rather simple and legal display of political speech.
Moreover, UCLA recently reversed a previous policy that prevented students from posting flyers that "tend to promote demeaning social stereotypes based on race, ethnicity, culture, gender or sexual orientation."
Such a vague and far-reaching policy could be stretched to canvas a whole range of student events and could be loosely interpreted to prevent student groups advertising events which faculty or administration found disagreeable.
At a national level, the Federal Restricted Buildings and Grounds Improvement Act, signed by President Obama last year, would restrict protests to designated areas on college campuses and would criminalize protests "knowingly" conducted in off-limits areas.
When lawmakers and administrators take such egregious oversteps, rulings in favor of unrestricted speech become all the more important to uphold the banner of the constitution.
The Israel-Palestine conflict is, as the student reader no doubt knows, a polarizing issue that often takes a front seat in evaluations of campus climate at UCLA and across the UC.
The report underscores clearly the sentiment that Jewish students can feel alienated on campus. In light of this, steps should be taken to promote inclusivity, but that do not come at the cost of suppressing another segment of the campus population. For the university to recommend actions that would indicate preference for one campus group over another is not the solution.
There are several sound suggestions listed in the report, such as meeting the dietary needs of Jewish students and faculty, and working to ensure students are able to observe religious holidays.
But to brand specific programming organized by other student groups such as the Apartheid Wall and Palestine Awareness Week, as part of a "movement which targets Israel and Zionism through an ongoing campaign of protests" and "the use of the academic platforms to denounce the Jewish state and Jewish nationalist aspirations," is counterproductive and ultimately harmful to creating an inclusive space on campus.
As a bystander to the larger conflict, it is easy to feel alienated by the report's language, both as a student and as an American.
It is not the UC's job to play the roles of censor and moral police on its own student groups.
The university will not be the stage on which far reaching conflicts are resolved, but it can serve a more immediate purpose: to foster in students an understanding of the meaning of mutual respect and the ability to engage in a civil discussion of contested topics.
_Email Ugarte at [email protected] . Send general comments to [email protected] or tweet us @DBOpinion