Eastern influences enhance western sports as martial arts improves player coordination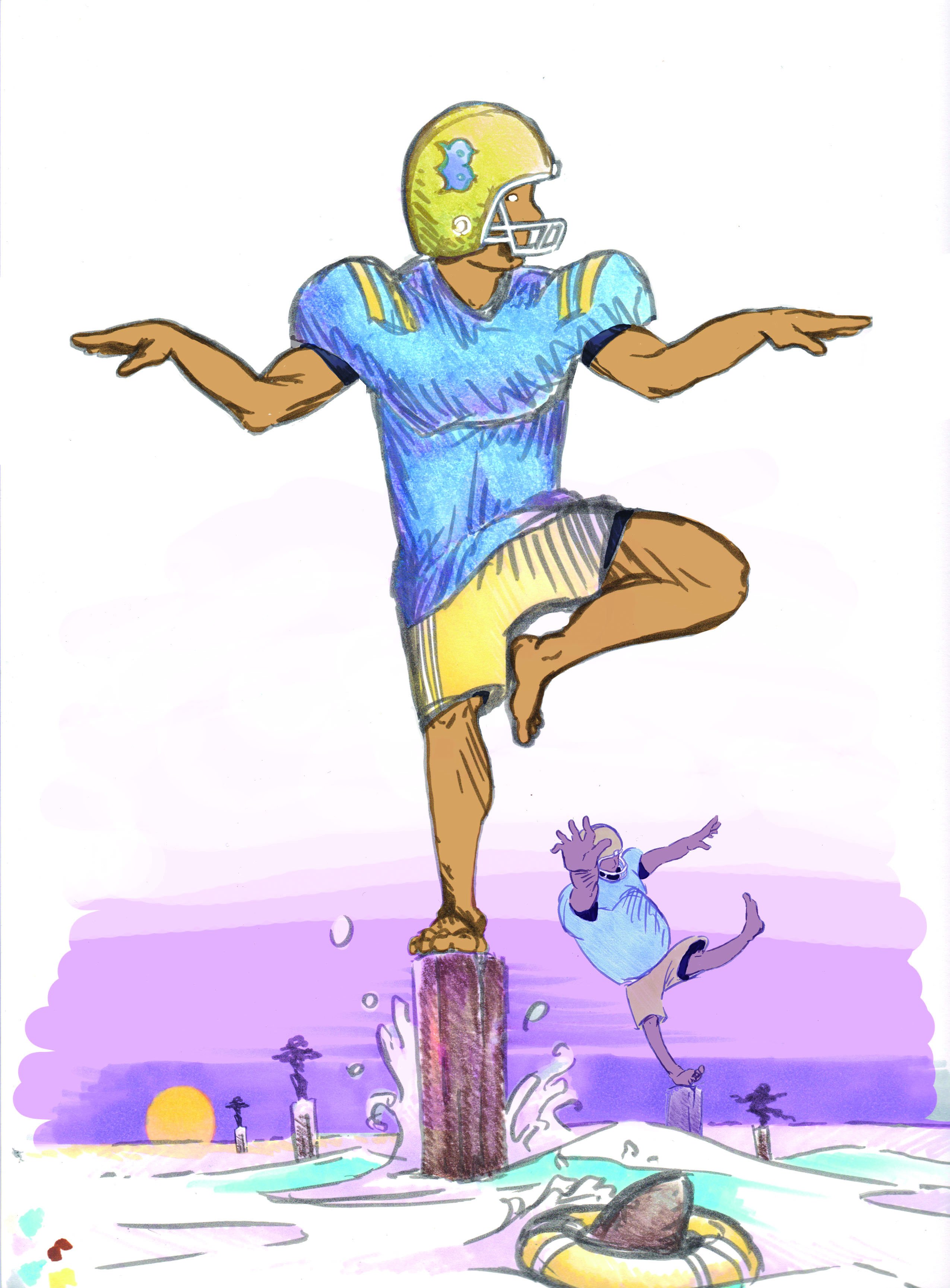 In a flurry of moves mere seconds after the ball is snapped, junior defensive end Cassius Marsh barreled through the offensive line and recorded a virtual sack against the quarterback in a no-contact jersey. And then he did it again the very next play.
While the pass rush may have seemed like a series of violently flailing arm movements, each slight motion has its purpose, ultimately leading to the sack.
Junior defensive end Owamagbe Odighizuwa insists that plays like this will be commonplace.
"It's unconscious for us now because there was so much repetition," he said.
These motions and repetitions were honed in a new program defensive line coach Angus McClure enrolled his players in.
Throughout the offseason and during the training camp right before practices, McClure has had his defensive linemen attend martial arts classes.
"I think it's great that the guys are learning different martial arts techniques because when you pass rush, it's a lot of hand fighting," he said.
McClure said he acquired the idea while he was still a high school coach years ago. He would attend the San Francisco 49ers' training camps in Rocklin, Calif., where he noted that a martial arts instructor would come after practice and work with the defensive line on hand fighting and one-on-one combat.
Odighizuwa also caught wind of professionals learning martial arts.
"I was excited because I know a few NFL players do that ­­"" some great defensive ends like Osi Umenyiora," he said.
And while martial arts often has the connotation of stunts and high-flying acrobatics, McClure has ensured that what his players learn is specific to their tasks on the field.
"We try to make it football-specific," he said. "It's not like we're going to get crazy and get into roundhouse fighting and that kind of stuff. We're going to try and do some football-related moves."
But although the moves these players learn may be football-related, the instructor is not.
"He's from England and he's very new to football, which I like because I don't want him necessarily teaching football techniques," McClure said. "I want him teaching martial arts techniques that our guys can apply to their repertoire as defensive linemen."
While their instructor, Paul McCarthy from the Wooden Center, may be more familiar with the type of football Americans call soccer, his lessons have bolstered the unit.
"The biggest thing it's doing is helping with our hand-eye coordination so we're actually seeing exactly what you're hitting," Jones said.
"Most guys do clubs, rips and swims but don't even know what they're hitting "" they close their eyes before they even move."
The defensive line struggled last year to stop the run and put pressure on the quarterback.
This year, the position group has had its way with the offensive line at practices, piling up sacks and tackles for losses at will. Head coach Jim Mora points to the defensive line as the strongest part of the team. McClure attributes some of the group's marked improvement to the martial arts classes.
"As defensive linemen, you have to know how to play with your hands," McClure said. "And I've seen their hand speed increase, I've seen them play with better leverage, I've seen them play with better balance "" so I think it's really helped our group."
Like a Mr. Miyagi of sorts, McClure has given his players an out-of-the-box approach to their skill set.
"I'm the type of coach that likes to find different and creative ways to motivate my players to improve and stay interested in their craft."