UCLA football seeks Saturday win in hopes of breaking bye week curse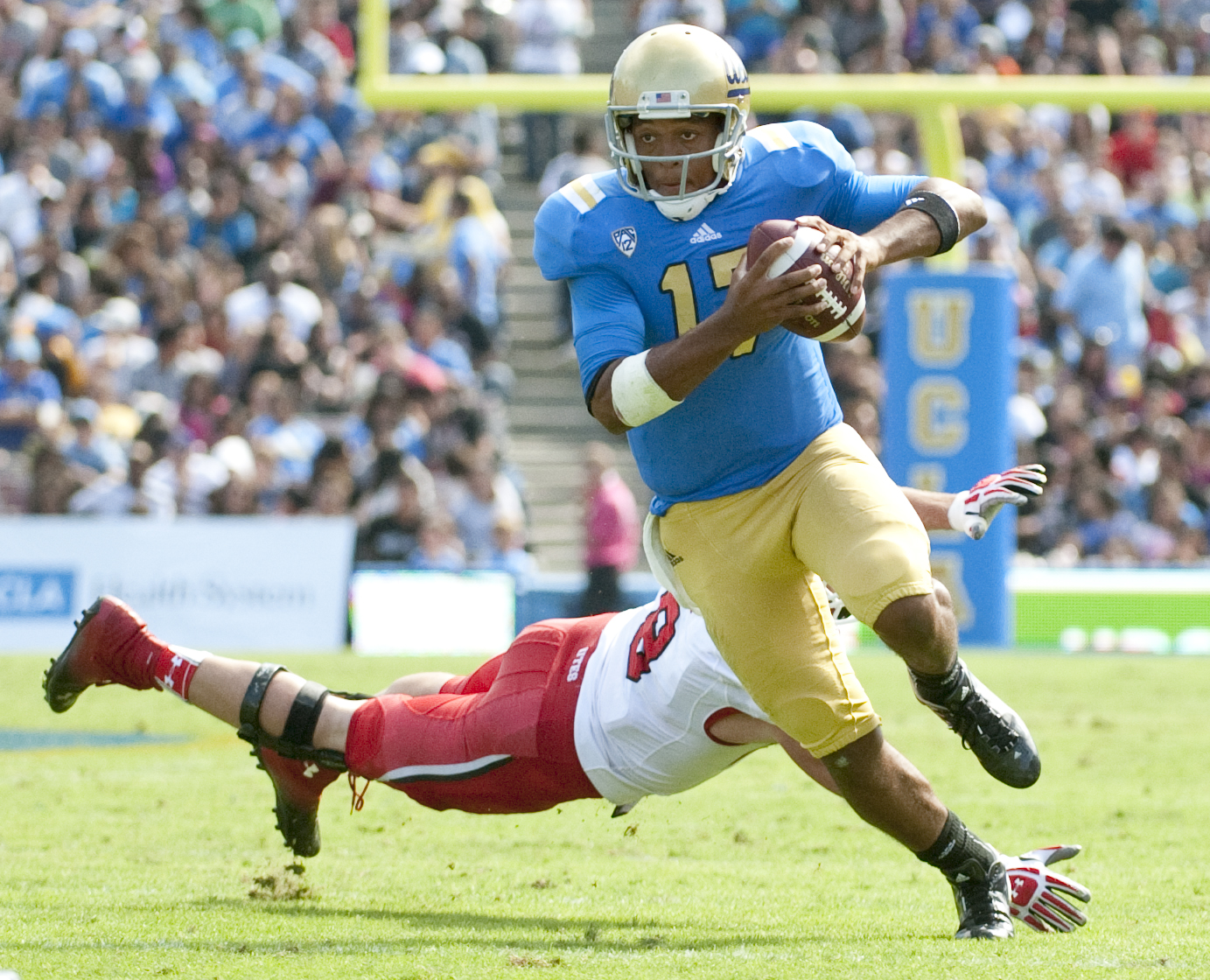 Redshirt freshman quarterback Brett Hundley will be returning to his home state when UCLA travels to Tempe, Ariz. to take on Arizona State.
Coming off of a bye week, the UCLA football team is now looking to turn around a disturbing trend that plagued the team under its previous coach, Rick Neuheisel.
Over the past four years, the Bruins have gone 0-4 following a bye week, with a combined scoring margin of 41-191.
"This game is a big one for us just to be able to start the last part of the season off (right)," said redshirt freshman quarterback Brett Hundley.
"These last five games are going to be really difficult and they're tough opponents, but we've just got to come through and play our game."
Despite UCLA's (5-2, 2-2 Pac-12) recent history of underperforming following bye weeks, the time off was more than welcome for the players.
"It was our bye week and we needed it to let our bodies rest," said redshirt senior defensive end Datone Jones.
"We have a really big game next week against a good opponent so we're happy to get healthy."
UCLA has been fairly fortunate injury-wise this season, but players like Hundley, redshirt senior running back Johnathan Franklin and redshirt senior receiver Joseph Fauria have all had nagging injuries that will benefit greatly from the week off.
"It was huge to just get your body back under you," Hundley said. "Now we can come off strong for the rest of the season."
Coach Jim Mora hopes that the time off will lead to a better result on the field.
"We've got some very important games coming up starting with this one Saturday against a very good Arizona State team," Mora said.
"So we've got to get ourselves focused in and ready to roll."
Injuries? What injuries?
Injury reporting has been at the forefront of college football this season with several well-documented disputes between reporters and coaches gaining national exposure.
Mora, though, said that he would not follow the progress of injured Arizona State defensive lineman Will Sutton during the week. Sutton is tied for third in the nation in sacks with 8.5 on the season.
"Whether he plays or not isn't something that I can control," Mora said. "So for us to waste any time worrying about it is just that "" a waste of our time."
Reports out of ASU have said that there is no structural damage to Sutton's knee, which he injured last week against Oregon, but there is no word yet on whether he will play or not.
Homecoming
UCLA doesn't have its homecoming game until next week against Arizona, but Hundley's homecoming will come a week early.
Hundley hails from Chandler, Ariz., which is less than 14 miles away from Arizona State University in Tempe, Ariz.
"All of my family and friends are going to be there," Hundley said. "Everybody I know is from Arizona so they'll all be there. It'll be a fun time."
While his friends and family will be in attendance, his immediate family will be rooting even harder for Hundley seeing as his dad play≠ed college football at the University of Arizona.
"I was always pushed toward U of A," Hundley said. "I grew up a fan of U of A."
Hundley said that he's been asking teammates for tickets with a total goal of 20 tickets for the game.
"I've been asking everybody," Hundley said with a smile. "I've got to try and get as many as possible, so I'm on the prowl for all of them."
Email Ruffman at [email protected].