Women's basketball holds first practice, stresses defense and discipline on the court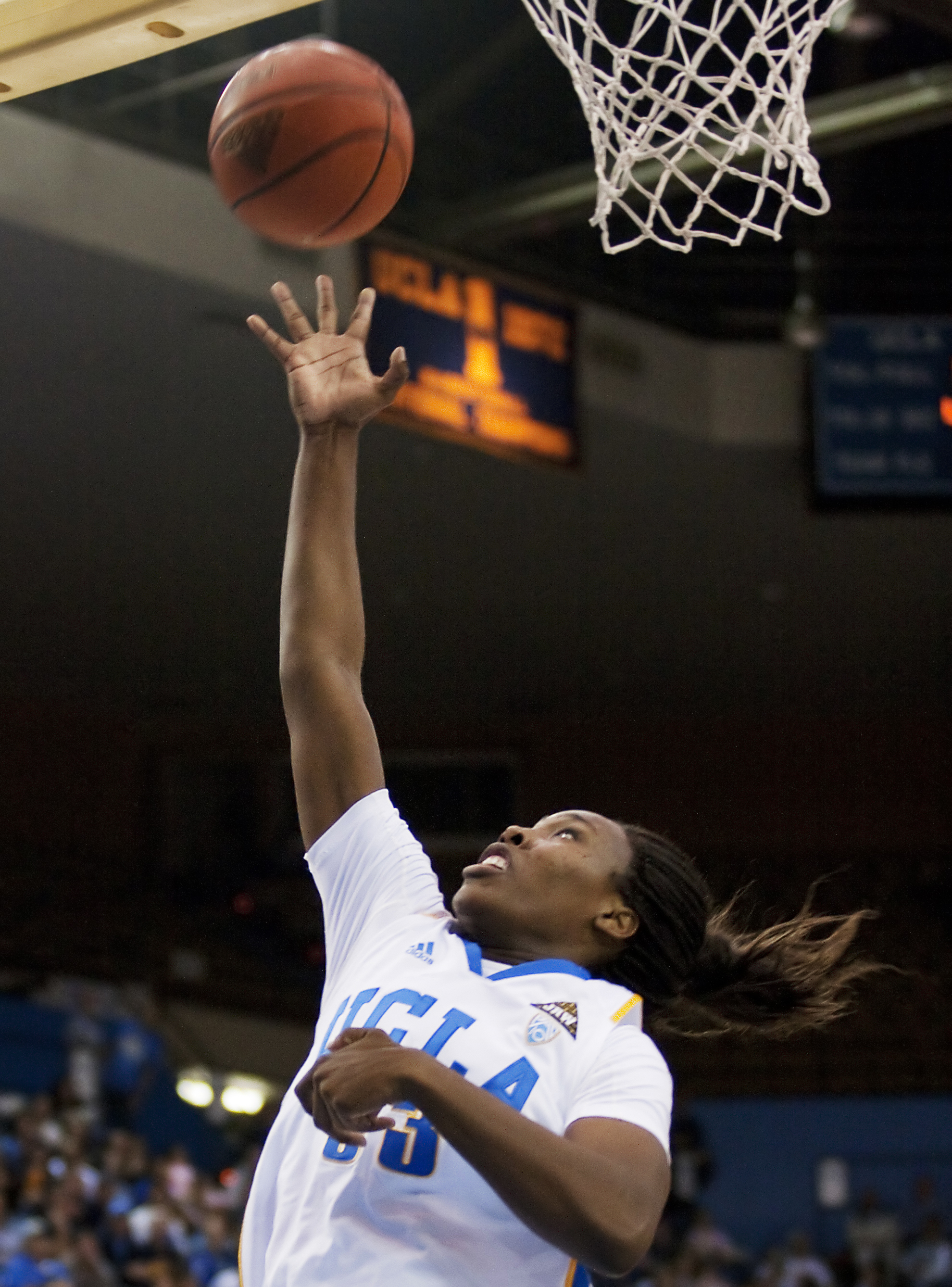 Redshirt senior forward Jasmine Dixon returns to the court this year after missing all of last season with a torn Achilles.
UCLA women's basketball coach Cori Close was visibly upset, but her words were encouraging.
"Choose to step it up and get it done," she demanded of her team. "Choose."
A couple of players had chosen not to hustle off of the court after a successful defensive drill, and the consequence for that decision was a suicide sprint.
In the Bruins' first practice of the upcoming season Monday, defense and discipline were the two points of emphasis Close stressed to her team.
"I'm a John Wooden disciple, and if you focus on the things you cannot control, it will adversely affect the things you can control," Close said, quoting the legendary former men's coach. "So, my real focus with them is "˜What can you control and did you give everything under your control to help our team win that possession or help our team be their best?'"
Close and the assistant coaches willed the players to ratchet up the intensity of practice, resulting in an up-tempo training session based on a strict schedule, with players sprinting from drill to drill.
The no-nonsense atmosphere can be attributed to the team's desire to push the ball on the fast break, something they consistently tried to do last season.
"We need to score out of transition and we need to be a great offensive rebounding team," Close said. "Well, how do you get to do that? We need to play with unbelievable energy and efficiency on defense. That will fuel those other things."
The welcome addition of a top-12 ranked recruiting class, according to ESPN, and players returning from injury should make it easier for the Bruins to play at this frenetic pace both defensively and offensively.
At one point last year, the team was essentially playing with seven healthy players, a hardship they should be able to avoid this season with the newfound depth.
"(It's) more competitive," said senior forward Markel Walker. "When we have weapons coming back … it pushes the underclassman more, makes them work harder and makes them want to get better."
Close's parting words to her team were that greatness is achieved by giving one's best. If that's the case, how far this team goes is a choice the players have to make.
Teacher's assistants
One of the most striking takeaways from Monday's practice was the dichotomy of young and old the Bruins have.
The UCLA roster sports four players in their fourth or fifth year as well as three true freshmen, all of whom figure to have a sizable impact on the team this season.
The Bruin veterans took a noticeable mentoring role to the freshmen at practice, coaching them up in between drills.
"It was their first college practice, so they feel like they're going to hurt somebody if they hit somebody too hard," said redshirt senior forward Jasmine Dixon, who missed all of last season with a torn Achilles. "I tell them, especially (freshman guard Kari Korver), "˜You gotta hit us. You're not going to hurt us, we're big girls. If you do, it will just make us get stronger.'"
Good vibrations
After the conclusion of their practice session, rather than a typical stretch or shoot-around to cool down, players were given a quick homework assignment.
Close instructed the players to grab their "What went well?" journals and write down three things they excelled at.
The exercise is new this year, the coach said, and something she hopes will instill a positive attitude in her team.
"We're trying to rewire our brains. … We need to focus on what we did well individually, what we did well as a group and let that be our parting thought. We're going to a thankful group of people … and know what we did well every day," Close said.