Rally responds to incidents of hate speech at UCLA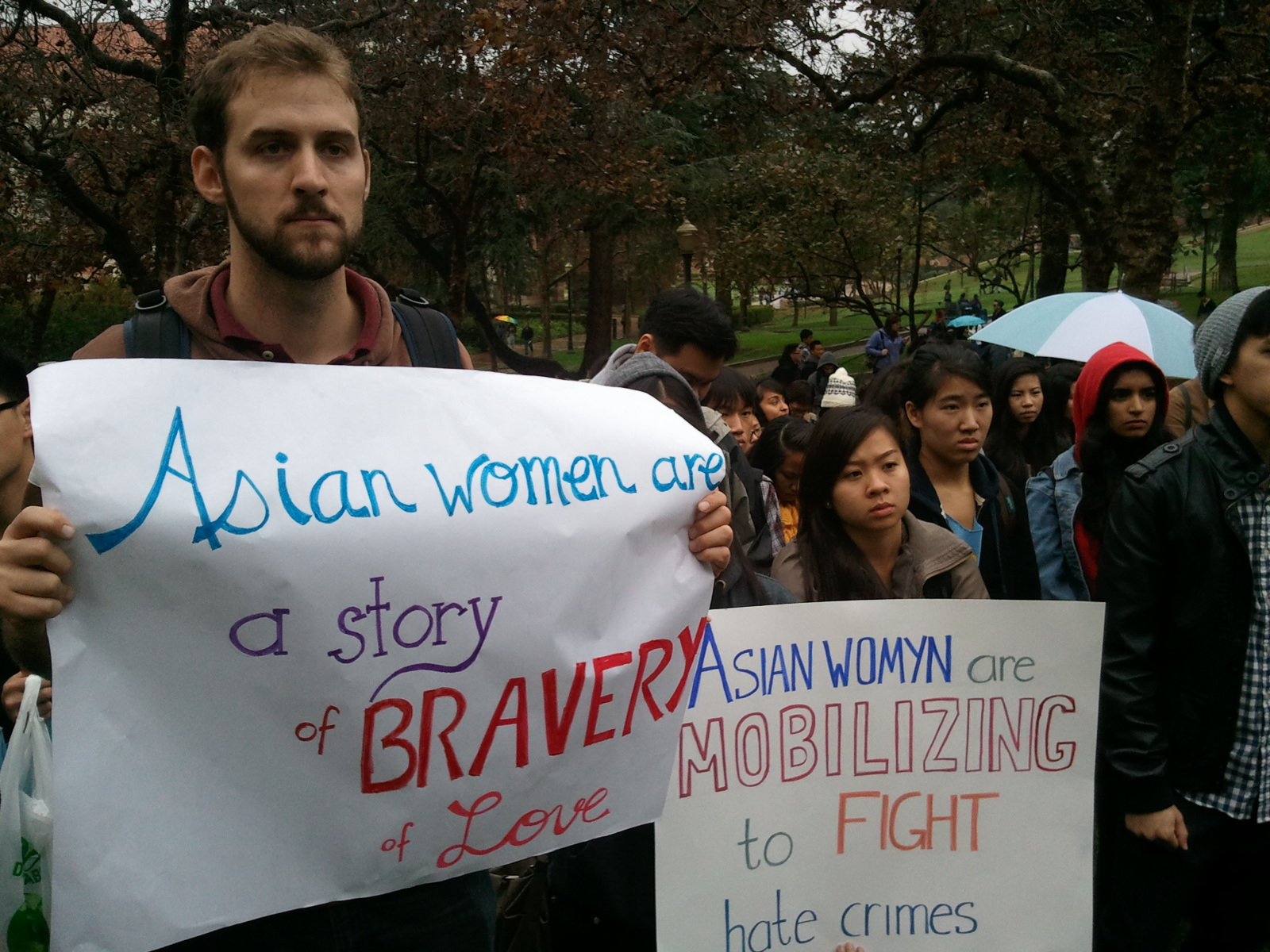 Students gather in front of Kerckhoff Hall Thursday to rally in response to racial and sexist slurs posted in two locations on campus.
Editor's note: We have decided to run in this story the exact wording of the racial and sexist slurs in this incident. Given the nature of these slurs, the editorial staff were faced with the question of whether it was appropriate for the student newspaper to repeat these slurs and potentially perpetuate their use. The editorial decision was made to write them as they occurred in order to report accurately and thoroughly on the incident.
About a hundred people rallied outside Kerckhoff Hall earlier today, following acts of vandalism involving racial and sexist slurs that were reported to police earlier this week.
On Tuesday, a student found a piece of paper with the words "asian women R Honkie white-boy worshipping Whores" attached to a Vietnamese Student Union sign in Kerckhoff Hall. Wednesday, a similar phrase was found handwritten on the door of a bathroom stall in Powell Library. University police are currently investigating both incidents.
Amid chants of "hey, hey, ho, ho; Racism has got to go" and people holding colorful signs, speakers from various campus groups expressed their disappointment with the occurrences at the rally, which was hosted by the Vietnamese Student Union.
Anees Hasnain, the student who reported the slurs on the Vietnamese Student Union sign to UCPD, said she felt numb and was shocked when she found the sign.
She added she is concerned by repeated incidents of hate speech on campus, referring to reports from earlier this year about anti-Mexican and sexist slurs written on an apartment door, and a video posted by former UCLA student Alexandra Wallace that included derogatory comments about Asian students.
"How can this be our home if my peers do not feel safe?" Hasnain said to the crowd. "It is up to all staff, faculty and students to help those suffering from discrimination."
Vice Chancellor of Student Affairs Janina Montero also spoke at the rally. She said she was outraged by the vandalism, and added that she feels the acts do not represent what UCLA should stand for as a community.
"(The administration wants) to express support and concern," Montero said, "I want to make sure that all the students here, regardless of their ethnicity, background or situation, know that this is unacceptable."
Teralyn Dang, a first-year business economics student, who attended the rally, said she was happy to see that people of all ethnicities and genders attended the event.
"It shows the person (who vandalized the sign) that, we are out there, we are not going to let this go unsaid," she said.
The Asian Pacific Coalition plans to hold a forum in the basement of the Student Activities Center on Dec. 5 to further discuss campus climate at UCLA.
Contributing reports from Ariel Hidal, Bruin contributor.