UCLA men's basketball pulls off narrow victory in overtime against UC Irvine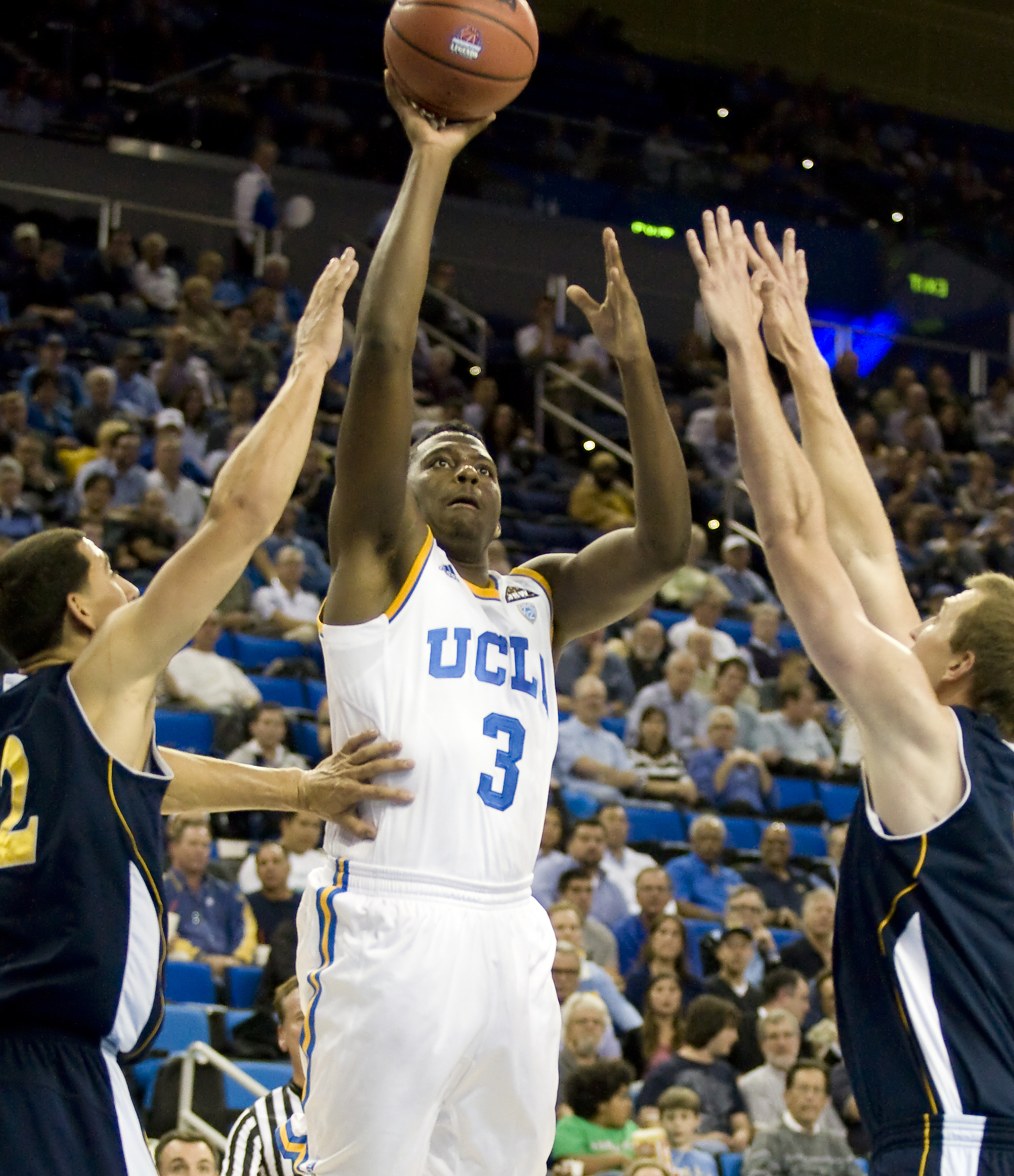 Freshman guard Jordan Adams led the Bruins with 26 points against the Anteaters Tuesday.
Men's basketball
UCLA

80

UCI

79
This wasn't how Ben Howland drew it up.
The UCLA men's basketball coach was coming off a thrilling victory over Indiana State on the opening night of newly renovated Pauley Pavilion.
His Bruins had a newfound sense of excitement and they were supposed to build on their momentum against the UC Irvine Anteaters.
Instead, Howland and his Bruins found themselves in a dogfight.
"This was kind of a trap game," Howland said. "I was really worried … that we wouldn't understand who we were playing."
Despite overlooking UCI (1-1), No. 13 UCLA (2-0) was able to escape with an 80-79 overtime victory.
"We are very fortunate to come out of here with a win," Howland said. "We had some fortunate breaks."
The contest started out as what looked to be a second consecutive blowout for the Bruins, as they went up as much as 12 points in the first half.
UCLA was unable to secure its lead as the first half wound down, as the team was unable to hit shots from behind the arch. UCLA ended the night 2-12 from the 3-point range while UCI hit on 10-22 from three in the game.
The Bruins went into the half with a 36-34 lead, but the Anteaters quickly showed that they had no intention of going away.
UCI continued to shoot well from beyond the arch while also outrebounding UCLA 55-44 on the night.
"We need to do a better job rebounding," said redshirt junior forward David Wear, who had 13 points and nine rebounds on the night. "There is no reason for us not to get rebounds."
Part of UCLA's issues can be attributed to playing only eight players on the night with junior guard Tyler Lamb sitting out with knee inflammation along with star freshman guard/forward Shabazz Muhammad, who is still trying to become eligible to play.
To make matters worse, freshman forward Kyle Anderson hurt his right hand with 9:11 left in the first half and was taken off the court. Anderson later returned, but he will undergo an X-ray today at 10:30 a.m. and potentially an MRI.
While depth, rebounding and defense were issues, UCLA had one very bright spot in freshman guard Jordan Adams, who scored 26 points off the bench to lead all scorers. It was the most scored by a UCLA freshman since Kevin Love in March of 2009.
Possibly the most impressive moment for Adams came with seven seconds left in regulation when he hit two free throws to force overtime. He went 16-16 from the line on the night.
"I take my free throws very seriously," Adams said. "I'm just glad to see my practice paid off in this game."
In the overtime, UCLA took an early lead, but with 29 seconds left, UCI senior Michael Wilder hit his sixth 3-pointer of the game to put the Anteaters up by one. Redshirt senior point guard Larry Drew II then took the ball down the court and scored on a layup that would prove to be the final basket of the game giving the Bruins the win.
"Kyle was coming off a screen and (UCI guard) Alex Young looked over his shoulder and I used my speed and quickness to make a play," Drew said.
Following that bucket, UCLA was able to secure a win, but there is a sense of concern settling around the program after the narrow victory.