Women's basketball gets fresh restart with full squad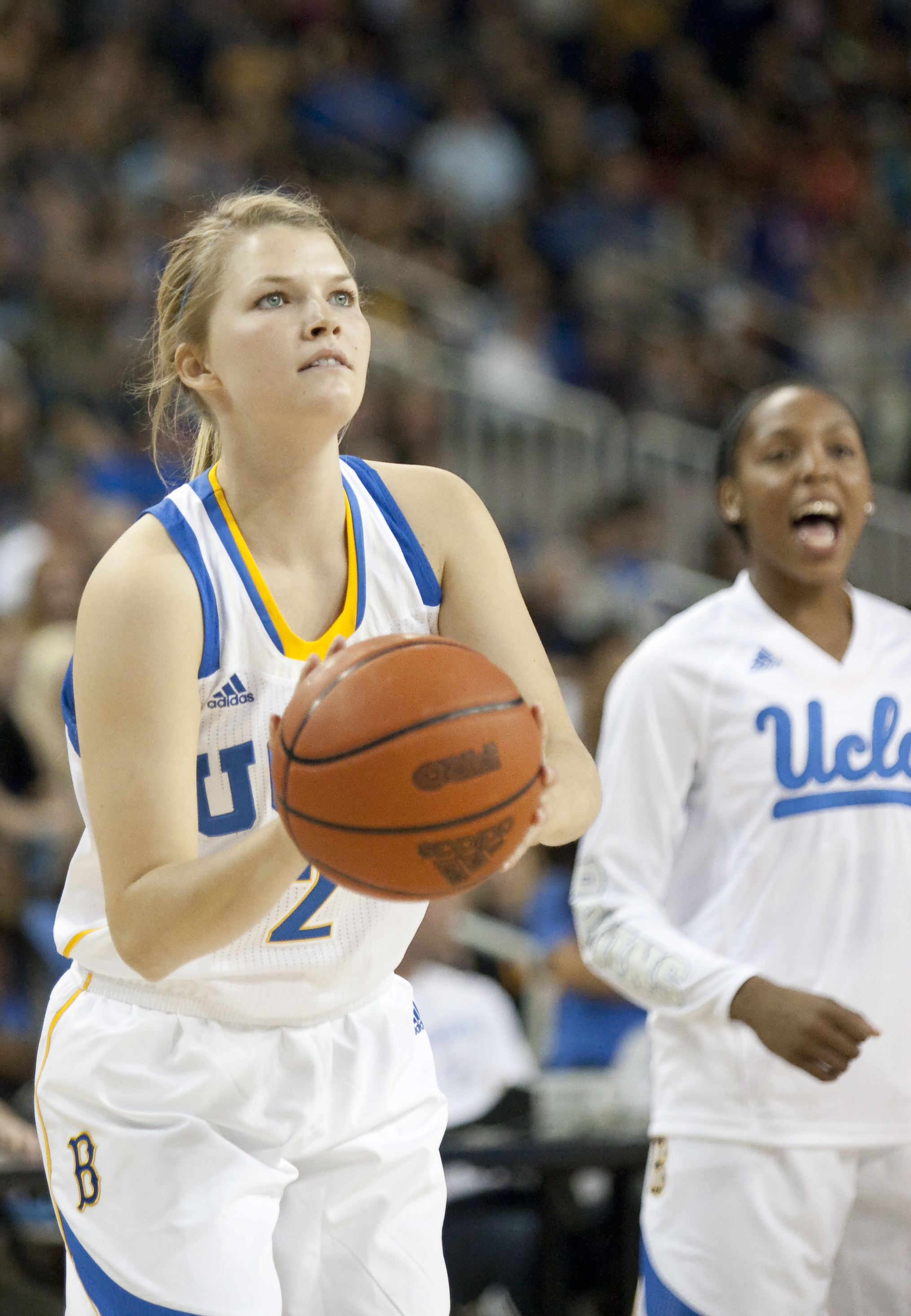 Sophomore guard Kari Korver will miss the season with a right knee injury.
After a year marred by every possible form of bad luck, the women's basketball team is ready to bounce back.
Coach Cori Close wants to see her team understand what they have "" especially compared to last season "" to take the opportunity they have and run with it. At any given basketball practice, it's likely that Close will talk about choices.
After one year marred by injury, Close sees that her team has an opportunity to succeed, and the way she sees it, it's up to her players to decide to take that opportunity and run with it.
"It's a daily, hard choice to do everything under your control for the sake of your team," the coach said. "That's what I'm trying to teach for their lives "" they have so much choice. … So often we're under the impression that life just happens to us. I want us to realize that the game doesn't just happen to us; life doesn't just happen to us."
When UCLA women's basketball takes the court this year, there will be more than a few changes. The squad has grown in more ways than one "" not only are there three star freshman recruits and a highly regarded transfer, but the players who missed part or all of last year because of injury "" senior guard/forward Markel Walker, redshirt junior Antonye Nyingifa and redshirt senior forward Jasmine Dixon "" are back out on the court.
Last year, Close did not have the bench to motivate her players. Now, she knows those players who missed all or part of last season will not take this season for granted and, therefore, will be more likely to succeed.
"I didn't have the opportunity to say, in order for you to play, you have to give your very best. That point of accountability raises the level for everybody," Close said. "It goes back to making better choices "" make the right choice right now, and when the consequence is missing out on the chance to play, it raises the competition and everybody gets better."
And not only is the team looking bigger, but so is its venue. The Bruins once again make their home in Pauley Pavilion, which was closed last year while under construction.
It's not only playing games in Pauley Pavilion that makes a difference, but practicing there as well.
The bright lights, big court and long history of UCLA's prized gym make even practicing there feel important.
"There is no way to describe how (Pauley) helps our team. … We're trying to become a top-10 team, and I can tell you I wouldn't have taken this job if this wasn't in the works," Close said.
With so many players in and out of the lineup last season, there was never much of an opportunity for the squad to meld and grow.
"Now that we're on the court, there's a team cohesiveness that we developed off the court," Nyingifa said. "We're trying to build those relationships. … I think it's going well so far."
Although freshman guard Kari Korver wasn't at UCLA last year, she understands coming back from injury. She missed her senior year with a knee injury.
"We're all looking to prove ourselves a little bit. … We're excited to get back on the court, we're excited to show we can still play basketball, we're excited to show what we can do with all the pieces there," Korver said.
Looking into this season, Close wants her team to grab hold of every chance it has and make the choice to succeed.
"We are really fortunate to do what we do. Life is precious, and let's attack this for the great opportunity that it is."