UCLA basketball defeats Cal State San Marcos in exhibition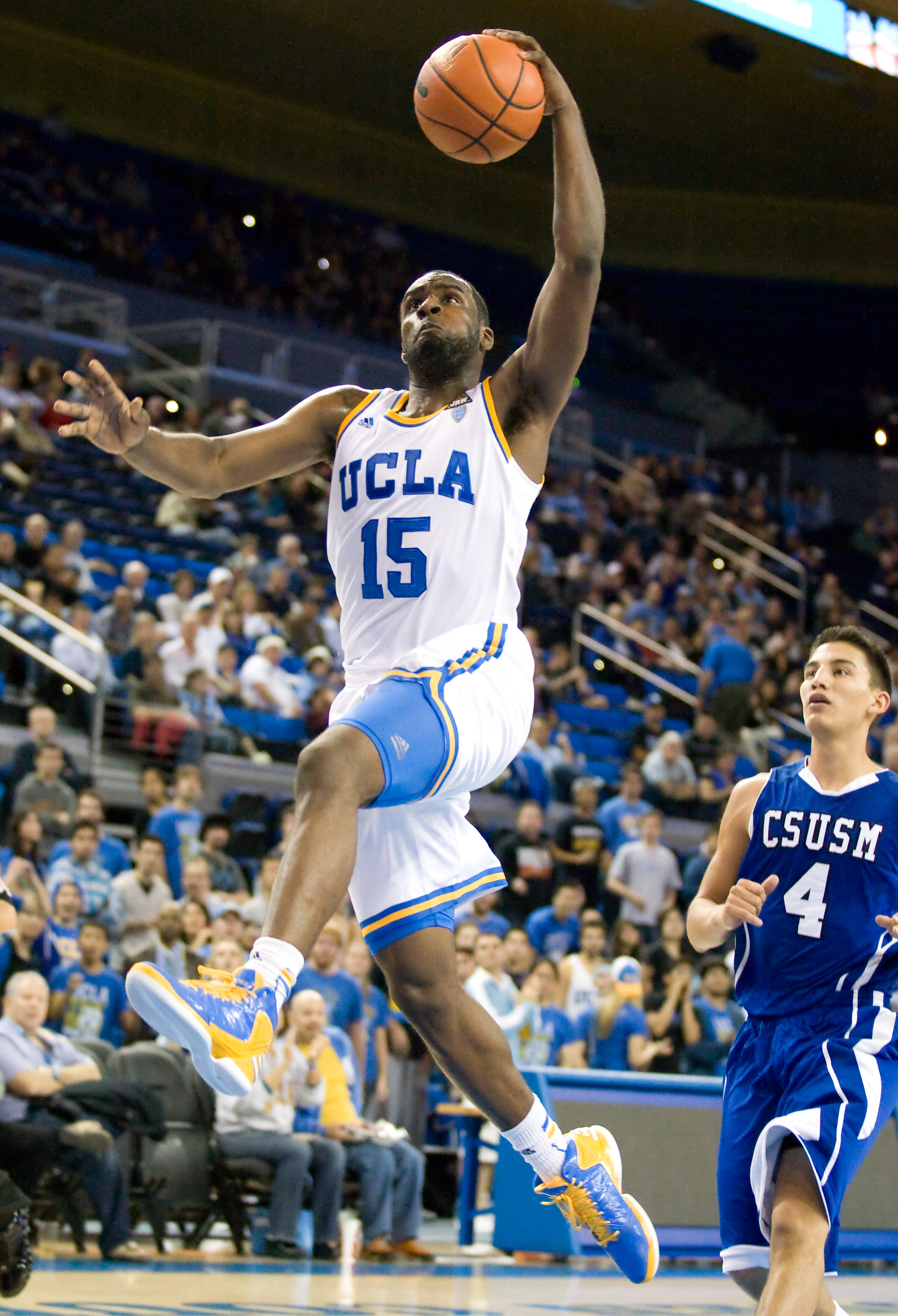 Freshman guard/forward Shabazz Muhammad elevates on a dunk.
By
Daily Bruin Staff
Dec. 4, 2012 11:01 p.m.
In order to give newly renovated Pauley Pavilion a proper grand opening just over three weeks ago, UCLA broke with the tradition of playing its annual exhibition game before the season, instead postponing it until Tuesday night.
The Bruins beat the Cal State San Marcos Cougars of the National Association of Intercollegiate Athletics 83-60 in a game that will not count toward their record.
"I thought they canceled it," freshman guard Jordan Adams said Monday.
So did UCLA fans, apparently.
While the Bruins beat the Sycamores of Indiana State in front of a sold-out crowd (13,513) to open the season, only 4,174 showed to watch them topple the Cougars (7-3). The student section on the baseline remained empty for the entirety of the game.
"It was awkward, but you have to take every chance you get to get better," said redshirt senior guard Larry Drew II. "We knew it wasn't going to count but we wanted to go out and give it our best effort."
Coach Ben Howland was just happy to escape the game injury-free and with his eight scholarship players still in one piece.
"The No. 1 thing is no one got hurt," Howland said. "That's always your biggest fear. I thought earlier today, 'My god, I hope no one gets hurt in this game. That would be a disaster.'"
Howland returned to his roots and kept UCLA (5-3) in its man-to-man defense after acknowledging his team needed to work on its seldom-practiced zone defense.
"We have a lot of work to do," Howland said. "We have to be able to mix it up and keep people off balance. We have to continue to evolve defensively."
Howland also asked that Cal State San Marcos coach Jim Saia require his team to play man-to-man defense after UCLA struggled against a similar look in a loss against San Diego State on Saturday.
Offensively, Cal State San Marcos forced UCLA to turn the ball over 21 times, a season high.
"I think that was the most pressure we've seen all year," Drew said of the Cougars' defense.
The Bruins spread the ball around as four players "" Drew, freshman forward Shabazz Muhammad, sophomore guard Norman Powell and redshirt junior forward David Wear – reached double figures on the night.
Although the exhibition game counts for nothing record-wise, Muhammad said he still learned something about his teammates.
"I thought we played more as a team today," Muhammad said. "Larry was making great decisions and when we get our offense going, it translates to our defense. I thought we did a great job tonight."
UCLA will face a tougher test on Saturday when it travels to Houston's Reliant Stadium to take on Texas (5-3).