Theater students explore Shakespeare in "˜Exploding Lear'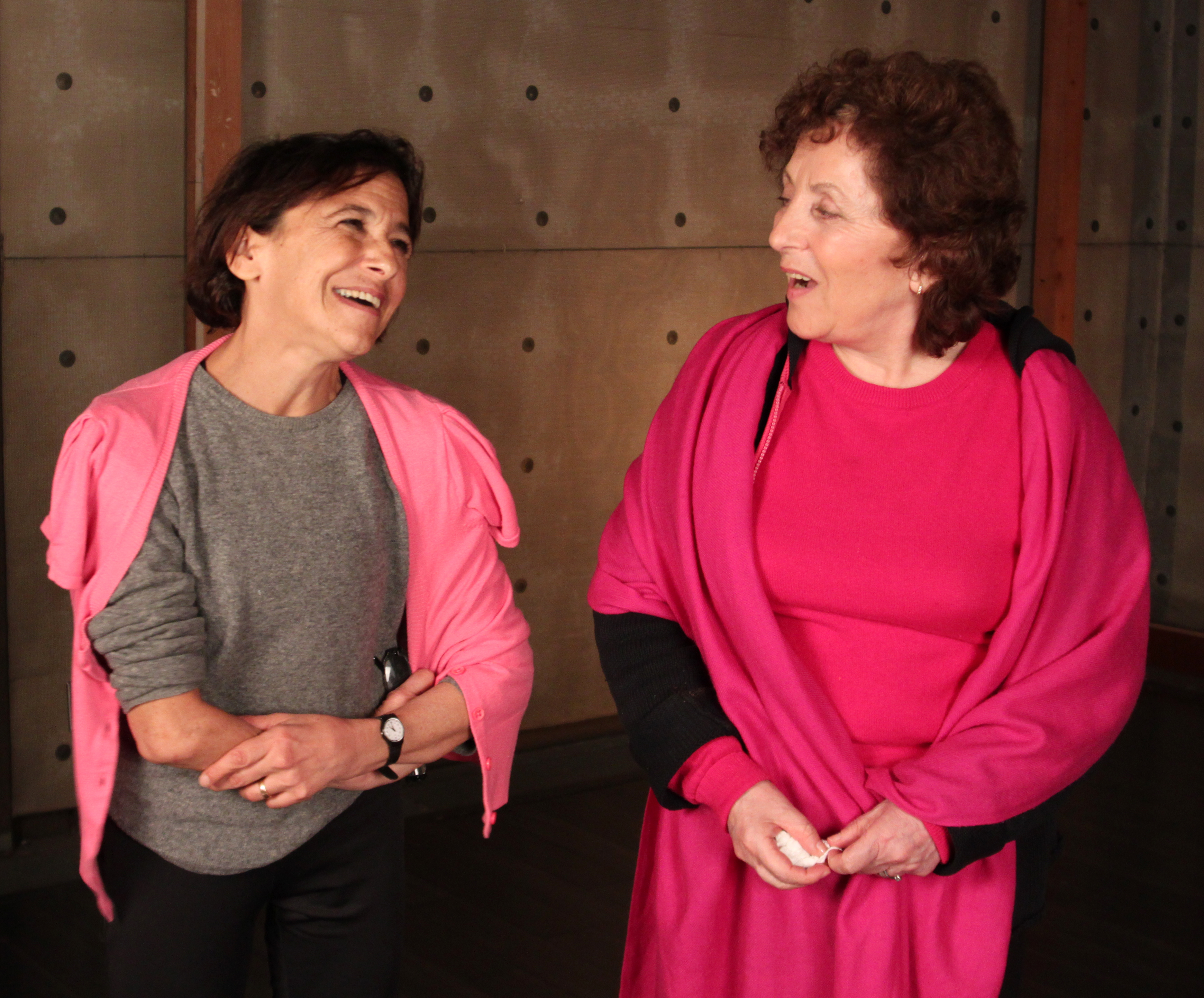 Olivier award-winning actress Kathryn Hunter (left) and director Helena Kaut-Howson (right), members of the Royal Shakespeare Company, come to UCLA for a workshop performance of "Exploding Lear."
Exploring Lear

Today, 7:30 p.m.
Thursday, 4 p.m. and 7:30 p.m.
Melnitz Hall, Theater Lab
Free
A king shouts to the world to drive him mad. Running across the English heath during a tempest, he abandons all care and his sanity. This king is a man in a play, but this man is being acted by a woman.
Olivier award-winning actress Kathryn Hunter plays King Lear in "Exploding Lear" today and Thursday. This workshop performance of Shakespeare's "King Lear" will focus on a few selected scenes and will offer theater students a chance to learn about Shakespeare with members of the Royal Shakespeare Company.
"King Lear" tells the story of a king dividing his land among his three daughters who must prove their love for him. He banishes the daughter who truly loves him and his two other daughters betray him for their own gain. Driven from his home, he goes mad. "Exploding Lear" focuses on themes that remain relevant to modern audiences and recent events.
"(This is) the point at which the world is at and then young people (are) coming into their own futures and embracing the world (and) looking at "˜Lear' and its wisdom, and both at its darkness and at its light," said Helena Kaut-Howson, director for this performance and a member of the Royal Shakespeare Company.
Both Hunter and Kaut-Howson describe the performance as an exploration, said fourth-year theater student Jennifer Coccimiglio.
"We're getting creative with the things that we have," said Coccimiglio, who will be playing Regan, one of Lear's daughters, in the final scene. "We're thinking in abstract ways to put something together that's creative and different. We're doing things with just our bodies, creating a storm with just a stick."
Coccimiglio said that for the storm scene, all the actors had the chance to record themselves giving the speech. All of these recordings will be played together during the performance of the scene.
Hunter originally acted the part of King Lear in a performance she worked on with Kaut-Howson in 1997. Kaut-Howson said she was excited about revisiting it after 15 years, especially with students. Hunter was requested to play Lear when asked to come to UCLA. Kaut-Howson said it is an experiment and an intriguing suggestion to have someone of Hunter's stature perform with young people.
Practiced in eight rehearsals over a two-week period, "Exploding Lear" will feature scenes that bring the themes to the forefront, said Lea Guillory, a first-year theater student who will be playing Kent in the final scene.
"We'll have a fantastic performance at the end, but it is a shorter amount of time," Guillory said. "So I think when the audience sees what we've been able to put together in such a short time, they'll be really surprised."
Since Guillory is a first-year, this is her first department performance. It is also the first time that first-year theater students have been allowed to audition for parts in departmental productions. It came as a surprise to Guillory, but she said she is happy for the chance.
"It is an amazing learning opportunity for me and I think for the other (first-years) that are in it too," Guillory said. "We're just so lucky because we get to work with members of the Royal Shakespeare Company and work on these scenes from "˜King Lear' and in a way that we wouldn't conventionally be able to work on them in class."
First-years will play opposite students in the upper classes, such as Coccimiglio.
"We have a really good number of freshmen through seniors, so we're getting to see the different stages that we're all in, help each other, cross that boundary between different grades and create just one ensemble," Coccimiglio said.
The workshop seeks not only to entertain its audience, but also to teach the students. Coccimiglio said she feels she is being taken to a higher level of acting by working with Hunter.
Hunter notes the passion of the students acting. She said she draws attention away from herself and back to the other actors' engagement with the play.
"The focus really is on the young people and their exploration, rather than having to deliver something finished and accomplished," Hunter said. "It's sharing the exploration thus far."